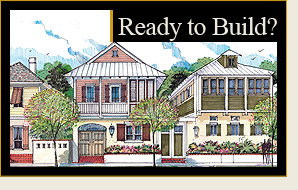 Approved Builders

Lea Rutter Homes, Inc
Office: 985.446.1903
Fax: 985.446.9591
Email: Learutterhomes@charter.net
Lea Rutter Homes, Inc. has been in the custom home-building industry for over 27 years. Lea Rutter Homes is renowned for the quality and attention to detail brought to all of our uniquely styled homes. The beautiful design and custom detail for each and every Lea Rutter Home have always been ahead of the market. Lea has developed neighborhoods and constructed dream homes for his clients all over Lafourche and Terrebonne Parishes.
Lea Rutter Homes is a family-operated business, with Lea's wife, Rachel, along with five of their seven children all involved and contributing to the business, as well as Lea's brother, Mickey, who is a job Superintendent. The Rutters provide clients with complete turnkey homebuilding solutions, which include planning, architectural and interior designs, as well as home construction. We strive to truly serve you as a full service contractor.

Terre South Investments, Inc.
Office: 985.872.4388
Terre South Investments, Inc. is a family-owned business that has been in the construction industry for over 35 years. Robert A. Burns, along with his daughters, Kelly Thompson and Renee Pizzolato, specializes in the design and construction of luxury homes with a mix of timeless, historical European and Mediterranean styles that incorporate many "Old World" elements such as copper, iron, stone and plaster.
Les Jardin is an exclusive development of residential homes that emphasizes an appreciation for "all things French," while recognizing the demand for amenities to accommodate our modern lifestyles. Through years of construction and design experience, Terre South has recognized the needs of contemporary living arrangements by designing spacious, luxurious houses incorporating the most innovative interior details such as gourmet kitchens, butler pantries, exterior living spaces, computer and homework nooks and children's dens.
Terre South's goal is to build highly functional homes that can act as landmarks in the community, and will withstand the test of time, both structurally as well as aesthetically.

Chris Ledet Homes LLC
Office: 985.448.2221
Fax: 985.633.1023
218 Rienzi Drive
Thibodaux, LA 70301
Chris Ledet homes provides unparalleled personal service. We work closely with each client throughout the planning, design and construction of the home. We believe the design/build process ensures the best experience for our clients. This process coordinates the talents and ideas of the clients, builder and designers to create the home our client envisions. We operate our business with the fundamental values of honesty and integrity. We treat everyone with respect and fairness. We build the finest homes in South Louisiana. We work with the best craftsmen in the market and we never stop looking for ways to improve out building methods and design.

Susan Pellegrin Homebuilder, Inc.
Susan Pellegrin has been a licensed Residential/Commercial contractor since 1989. She is a 1971 graduate of LSU College of Business and took Construction Management courses from 1987-1989. She is a current board member and President of the Southeast Louisiana Homebuilders Association, the Louisiana State Association, and a board member of the State Licensing Board of Contractors. She has built speculative and custom homes in the Summerfield, Sugar Mill, Ellendale, Clark Estates and the Lakes subdivisions. She has been married since 1971 to Michael Pellegrin who is an Attorney and Financial Adviser.

Unique Homes, LLC
Office: 985.917.2916
Fax: 985.917.2917
Unique Homes has stood for fresh, new, innovative ideas for 40 years in custom home building. Everything is artistically proportioned and pleasing to the eye. "New ideas combined with old time standards" is a motto that Don Trahan and Unique Homes applies to each individual classic home. He is dedicated to each and every client, and is known for his commitment to quality and customer service.
Open spaces, steep roofs, fireplaces, granite, whirlpool tubs, and snazzy light fixtures all add up to a home to be proud of. Don Trahan loves each home he creates, perfecting and standing behind each one.
Unique Homes and Don Trahan exemplify Cajun hospitality. His sincere aim to please is as refreshing as his New Concepts in Unique and Perfect Living.